IC DK Sivkjær's Game Boy
International Champion (IC)
IC DK Sivkjær's Game Boy
MCO n 03 22
Genetikk: AA DD ii mcmc spsp tt
Helse: DNA HCM N/N, PK-def N/N, SMA N/N, bærar av b-blod. Hjertescreening Normal 11-2018, 05-2022.
Game Boy er far til J-kullet (2021)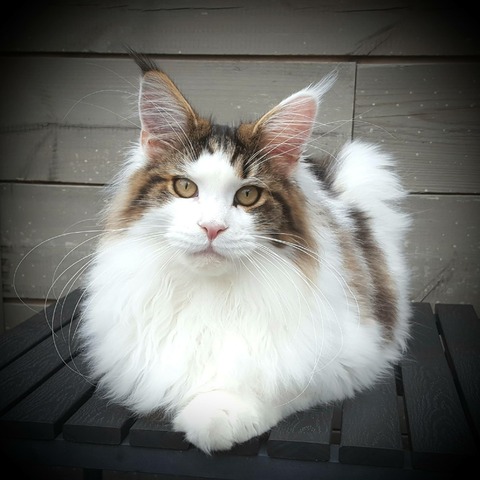 Kjønn / Sex:

Hanne / Male

Født / Date of Birth:

30.Nov.2017
Klubb / Club:

Vestlandets Katteklubb (VKK) / Norsk Rasekattklubbers Riksforbund (NRR) / FIFe

EMS:

MCO n 03 22
Tusen takk til Helle Sivkjær for vår nye gut, DK Sivkjær's Game Boy! Han er fødd 30. november 2017 og er NO*Fjordlynx sin danske avlshanne. <3 Under tabellen med utstillingsresultat kan du sjå fleire bilder av han.
Game Boy er pappa til J-kullet (f. 26.09.2021)
Thanks a lot, Helle Sivkjær, for NO*Fjordlynx' future breeding male, DK Sivkjær's Game Boy. He's born the 30th of November 2017 in Denmark.
IC - International Champion: 07.12.2019, Ädelkatten, Sweden
CH - Champion: 16.02.2019, Bergen Rasekatt Klubb
| | | | |
| --- | --- | --- | --- |
| 11 x EX1 | 2 x BIV | 4 x NOM | 0 x BIS |
| | | | | |
| --- | --- | --- | --- | --- |
| 2019 | Arrangør | Klasse | Dommer | Resultat |
| 08.12.2019 | Ädelkatten, Sweden | 5 | Caroline Stoa (NO) | EX1, CAGCIB |
| 07.12.2019 | Ädelkatten, Sweden | 7 | Malin Sundqvist (SE) | EX1, CACIB - International Champion |
| 10.11.2019 | Hansakatten, Bergen | 7 | Karl Preiss (NO) | EX1, CACIB |
| 17.02.2019 | Bergen Rasekatt Klubb | 7 | Magdalena Kudra (PL) | EX1, CACIB |
| 16.02.2019 | Bergen Rasekatt Klubb | 9 | Kai Ruonala (FI) | EX1, CAC - Champion |
| 2018 | Arrangør | Klasse | Dommer | Resultat |
| 11.11.2018 | Hansakatten, Bergen | 9 | Caroline Stoa (NO) | EX1, CAC, NOM |
| 10.11.2018 | Hansakatten, Bergen | 9 | Britta Busse (DK) | EX1, CAC |
| 12.08.2018 | Vestkystkatten, Kristiansund | 11 | Geir Edvardsen (NO) | EX1, BIV-T, NOM |
| 11.08.2018 | Vestkystkatten, Kristiansund | 11 | Yan Roca Folch (FR) | EX1, BIV-T, NOM |
| 20.05.2018 | VKK, Voss | 12 | Sabine Mösch (CH) | EX1, NOM, 1 stemme i panel |
| 19.05.2018 | VKK, Voss | 12 | Philippe de Guerny Ventura (FR) | EX1, nr. 3 til NOM |