NO*Fjordlynx Astra the Sparkling Star
NO*Fjordlynx Astra the Sparkling Star
MCO fs 09
Genetikk: aa Dd Ii mcmc spsp tt
Helse: DNA HCM N/N, PK-def N/N, SMA N/N. Hjertescreening Normal 02-2019, 10-2020.
Astra er mor til G-kullet (2021)
Astra bur heime.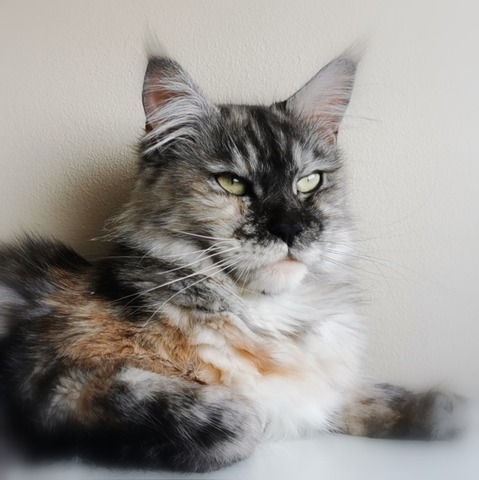 Kjønn / Sex:

Hoe / Female

Født / Date of Birth:

12.Nov.2017

Død / Date of Death:

21.Mar.2023
Klubb / Club:

Vestlandets Katteklubb (VKK) / Norsk Rasekattklubbers Riksforbund (NRR) / FIFe

Reg.nr.::

(NO) NRR LO 186384

EMS:

MCO fs 09
Astra er Fjordlynx-oppdrettet sitt aller første avkom. :-) Ho er ei skjønn og veldig snill jente som kosar seg heime.
Astra er mamma til G-kullet (f. 16.04.2021) og mormor til Guri Malla sitt kull hos Ladejarlen i Trondheim.
Vektutvikling - Weight development:

Nyfødd / Newborn: 98 gram
1 veke / 1 week: 162 gram
2 veker / 2 weeks: 285 gram
3 veker / 3 weeks: 447 gram
4 veker / 4 weeks: 530 gram
5 veker / 5 weeks: 676 gram
6 veker / 6 weeks: 767 gram
7 veker / 7 weeks: 917 gram
8 veker / 8 weeks: 1022 gram
9 veker / 9 weeks: 1208 gram
10 veker / 10 weeks: 1388 gram
12 veker / 12 weeks: 1766 gram
| | | | |
| --- | --- | --- | --- |
| 2 x EX1 | 2 x BIV | 0 x NOM | 0 x BIS |
| | | | | |
| --- | --- | --- | --- | --- |
| 2019 | Arrangør | Klasse | Dommar | Resultat |
| 17.02.2019 | Bergen Rasekatt Klubb | 9 | Magdalena Kudra (PL) | EX2 |
| 16.02.2019 | Bergen Rasekatt Klubb | 9 | Stephe Bruin (NL) | EX1, CAC, BIV |
| 2018 | Arrangør | Klasse | Dommar | Resultat |
| 20.05.2018 | VKK, Voss | 12 | Zvezdan Memedov (SE) | EX3 |
| 19.05.2018 | VKK, Voss | 12 | Sabine Mösch (CH) | EX1, BIV |
| 18.03.2018 | Lirak, Dal | 12 | Veikko Saarela (FI) | EX3 |
| 17.03.2018 | Lirak, Dal | 12 | Sabine Mösch (CH) | EX3 |