Current
IC ES*Gattacamoon X-Man JW - har blitt para med / has been bred to - NO*Fjordlynx Astra the Sparkling Star
Født / Date of Birth: 16.Apr.2021
Hanne / Sire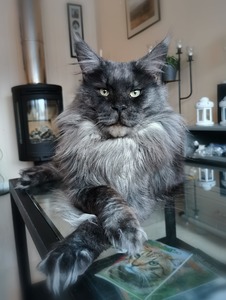 Sjå profil / View Profile
International Champion (IC)
Hoe / Dam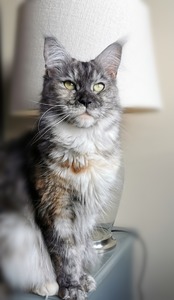 Sjå profil / View Profile
Avkom / Offspring
Astra og X-Man har fått 6 små. <3
Astra and X-Man has got 6 babies.
Fargar/colours:
Jenter/girls: ns og fs
(Sortsmoke og sortskilpaddesmoke, Black smoke and black tortie smoke)
Gutar/boys: ns og d(s)
(Sortsmoke og rød(smoke?), Black smoke and red smoke)
Linkar til eit utval av EMS-koder / links to some EMS-kodes:
Mengde kvitt / amount of white
Forklaring Status:
"Ledig / Available" - Ta kontakt ved interesse.
"På vent / On hold" - Er under vurdering, men kan bli ledig.
"Reservert / Reserved" - Er bestilt og reservasjonsgebyr er betalt.
"Seld / Sold" - Er flytta til ny heim.
"Blir / Stays" - Blir i oppdrettet.