GIC ES*Gattacamoon X-Man JW DVM
Grand International Champion (GIC)
GIC ES*Gattacamoon X-Man JW DVM
Junior Winner (JW)
Distinguished Variety Merit (DVM)
MCO ns
Genetikk: aa DD Ii Mcmc spsp tt
Helse: DNA HCM N/N, PK-def N/N, SMA N/N. Hjertescreening Normal 11-2018, 10-2020.
X-Man er far til B-kullet (2018), C-kullet (2018), G-kullet (2021) og I-kullet (2021)
X-Man bur heime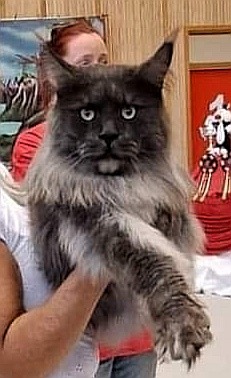 Kjønn / Sex:

Hanne / Male

Født / Date of Birth:

11.Mar.2017
Klubb / Club:

Vestlandets Katteklubb (VKK) / Norsk Rasekattklubbers Riksforbund (NRR) / FIFe

EMS:

MCO ns
Hels på vår nye avlshanne, ES*Gattacamoon X-Man! <3 Han er født 11. mars 2017 i Slovakia, og har ES*Gattacamoon Fabulous og IT*Leaena Tiffany som foreldre :-) Bilder ligg i albumet nedanfor.
X-Man er pappa til: B-kullet (f. 17.06.2018), C-kullet (f. 12.09.2018), G-kullet (f. 16.04.2021) og I-kullet (26.05.2021).
Say hello to ES*Gattacamoon X-Man, our new breeding male! He's born 11th of March 2017, and his parens are ES*Gattacamoon Fabulous and IT*Leaena Tiffany. Please take a look at the album below to see more pictures.
Vesle ES*Gattacamoon X-Man debuterte på Vestkystkatten si utstilling i Kristiansund, september 2017. Han slo til med BIV-total, 2 x NOM, 2 x BIS, og 2 x BOB! Laurdag BOB i kattungeklassen på tvers av alle kategoriar, og søndag BOB av alle i kategori 2.
Oppnådde titlar og utmerkelser
MCO-spesialen 7. august 2022 i Kristiansund:
BESTE PROFIL
BESTE SNØSKO
GIC - Grand International Champion: Vestkystkatten i Kristiansund, 7. august 2022.
DVM - Distinguished Variety Merit: Vestkystkatten i Kristiansund, 6. august 2022
IC - International Champion: Ädelkatten, Göteborg, 07.12.2019
CH - Champion: Bergen Rasekattklubb, 16.02.2019
Junior Winner (JW): Sunnmørskatten, 21.10.2017
Plasseringar Årets katt:
2017 - Ungdyr nr. 6 av 291 (2. beste MCO)
| | | | | |
| --- | --- | --- | --- | --- |
| 23 x EX1 | 11 x BIV | 13 x NOM | 6 x BIS | 2 x BOB |
| | | | | |
| --- | --- | --- | --- | --- |
| 2022 | Arrangør | Klasse | Dommer | Resultat |
| 11.09.2022 | Sunnmørskatten, Ålesund | 3 | Geir Edvardsen (NO) | EX1 CACS, NOM |
| 10.09.2022 | Sunnmørskatten, Ålesund | 3 | Daria Lukasik-Weber (PL) | EX1 CACS |
| 07.08.2022 | Vestkystkatten, Kristiansund | 5 | Sara Moroni (IT) | EX1 CAGCIB/Grand International Champion (GIC), BIV-T, NOM |
| 06.08.2022 | Vestkystkatten, Kristiansund | 5 | Anne Veland (NO) | EX1 CAGCIB, BIV-T/Distinguished Variety Merit (DVM), NOM |
| 26.06.2022 | KKMN, Trondheim | 5 | Laura Scholten (NL) | EX1 CAGCIB, BIV-T, NOM |
| 25.06.2022 | KKMN, Trondheim | 5 | Zvezdan Memedov (SE) | EX1 CAGCIB, BIV-T, NOM |
| 2021 | Arrangør | Klasse | Dommer | Resultat |
| 06.11.2021 | Hansakatten, Bergen | 5 | Michael Edström (SE) | EX1 CAGCIB |
| 06.11.2021 | Hansakatten, Bergen | 5 | Luigi Comorio (IT) | EX1 CAGCIB |
| 2019 | Arrangør | Klasse | Dommer | Resultat |
| 08.12.2019 | Ädelkatten, Sweden | 5 | Åsa Carnbrand (SE) | EX1, CAGCIB, BIV |
| 07.12.2019 | Ädelkatten, Sweden | 7 | Kristiina Rautio (FI) | EX1, CACIB - International Champion |
| 09.11.2019 | Hansakatten, Bergen | 7 | Ireneusz Pruchniak (PL) | EX1, CACIB, BIV |
| 17.02.2019 | Bergen Rasekattklubb, Bergen | 7 | Stephe Bruin (NL) | EX1, CACIB |
| 16.02.2019 | Bergen Rasekattklubb, Bergen | 9 | Dietmar Sagurski (DE) | EX1, CAC - Champion |
| 2018 | Arrangør | Klasse | Dommer | Resultat |
| 11.11.2018 | Hansakatten, Bergen | 9 | Veikko Saarela (FI) | EX1, CAC, BIV |
| 10.11.2018 | Hansakatten, Bergen | 9 | Marta Ziemianska (PL) | EX1, CAC, BIV, NOM |
| 2017 | Arrangør | Klasse | Dommer | Resultat |
| 28.10.2017 | WWS, Rijswijk | 11 | Michael Edström (SE) | EX3 |
| 22.10.2017 | Sunnmørskatten, Ålesund | 11 | Luigi Comorio (IT) | EX1, NOM, BIS |
| 21.10.2017 | Sunnmørskatten, Ålesund | 11 | Donatella Mastrangelo (IT) | EX1, NOM, BIS/JuniorWinner |
| 08.10.2017 | RORAK, Orre | 12 | Katia Pocci (IT) | EX1, BIV-T |
| 07.10.2017 | RORAK, Orre | 12 | Donatella Mastrangelo (IT) | EX1, BIV kl.12, NOM |
| 24.09.2017 | Polarkatten, Mo i Rana | 12 | Anne Veland (NO) | EX1, NOM, BIS (4 av 5 stemmer) |
| 23.09.2017 | Polarkatten, Mo i Rana | 12 | Donatella Mastrangelo (IT) | EX1, NOM, BIS (3 av 5 stemmer) |
| 03.09.2017 | Vestkystkatten, Kristiansund | 12 | Glenn Sjöbom (SE) | EX1, NOM, BIS, BOB |
| 02.09.2017 | Vestkystkatten, Kristiansund | 12 | Geir Edvardsen (NO) | EX1, BIV-T, NOM, BIS, BOB |